Rethinking Resolutions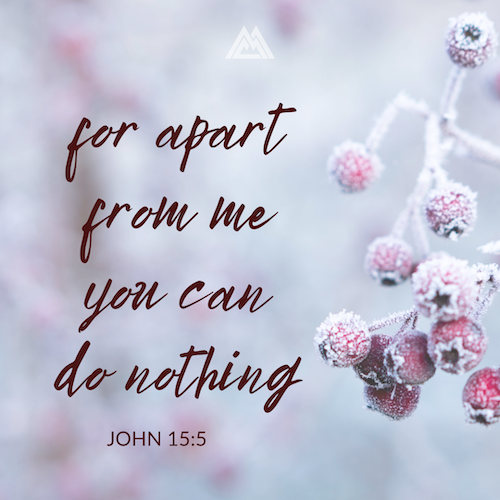 Happy New Year! Individually and as a camp, we've been rethinking priorities, considering where to invest time, and pondering how God transformed us throughout 2022. We hope you have too.
It's common to create New Year's Resolutions and resolve that 2023 will be a better year. However, oftentimes the Bible reading plans and gym memberships go untouched after a few weeks. Why is that?
Because we cannot create deep and lasting change on our own.
As Jesus reminds us: "…for apart from me you can do nothing." (John 15:5) With this in mind, let's consider how the gospel might refocus our resolutions.
Step 1: Pray. 
Let's ask God to reveal any self-centered motivations and help us love Him first, trusting that every resolution or change flows from that relationship. Our mustered willpower can only last so long. 
Step 2: Lean on Jesus. 
How does the gospel inspire motivation? It tells us that we are deserving of God's wrath and judgment, and only through the blood of Christ can we be cleansed from sin (even as believers) and not face condemnation (Rom. 8:1). He alone gives the grace, desire, and power to change.
As you prayerfully consider your motives and lean on Jesus, perhaps reconsider how you approach your resolutions. Some ideas…
Resolve to worship. Worship changes us. (Is. 6:3-7, 2 Cor. 3:18, Ps. 73:23-28).
Resolve to know God more deeply (Col. 1:10, Eph. 3:18-19).
Resolve to offer your life to God and die to self daily (Rom. 12:1-2, 1 Cor. 15:31).
Resolve to find your identity in Christ–not in your accomplishments, relationships, work, ministry, or anything else (Phil. 3:7-10).
Resolve to repent quickly when God reveals sin to you and to fight against any remaining sin in your life (1 John 1:8-9. Rom. 7:18-20, Rom. 8:2-6).
Resolve to be faithful to your local church (Acts 2:42, Eph. 4:11-13, Heb. 10:25).
You may find that resolutions like these aren't specifically measurable or are harder to be checked off a list, unlike traditional resolutions. But with humility and prayerful dependence, you will see God using those to change you. May God be glorified by our lives in 2023.
---
Praises
Praise God for the work He did in your own heart and others in 2022.
Thank God that He doesn't leave us on our own to become holy, but will complete the work He started (Phil. 1:6).
Praise God for sending Jesus to live and die in our place, so we have forgiveness and freedom.
---
Pray For
God to reveal anything that you may love more than Him, and to give you the humility and grace to love Him most.
Growth in your love and knowledge of God, producing transformation in 2023.
For dependency on Jesus and His grace.