Continuing the Legacy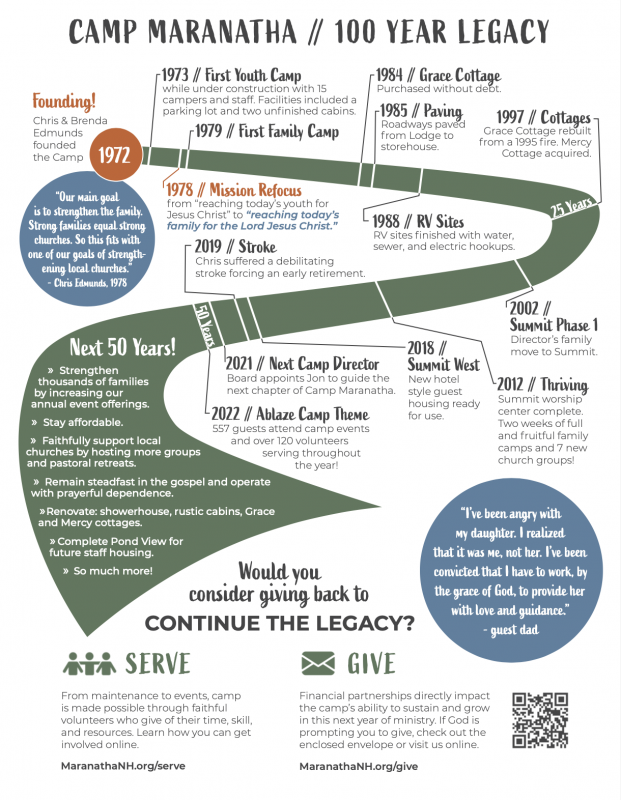 Wow, what a year! From ice fishing with fathers and sons midwinter to wilderness hikes with youth in summer, we've enjoyed some memorable adventures with our guests. Through our 2022 Ablaze theme, people left challenged to live on fire for Jesus and boldly share the gospel. We're so thankful for the impact we saw this year.
After completing my first year as Camp Director, I'm encouraged by the many stories of God's work here–answering prayers, strengthening relationships, and changing lives. I wish I could share them all, but I'll stick with one.
Nearly thirty years ago, three young girls were impacted by the ministry of Camp Maranatha. Years later, God stirred in each of their hearts a passion for camp ministry. And in the last couple years, God brought all of them back to Maranatha as three of our staff members! It's amazing to see how God turns transformed lives into vessels for His Kingdom.
As we celebrate 50 years of camp ministry, we're thinking deeply on what it means to continue this legacy of faith (see timeline below for more). With our founder's vision in mind, we want to continue strengthening thousands of families and local churches over the next 50 years. Our affordable events make it possible for families to come and set aside the cares of life—to slow down, enjoy the outdoors, and cultivate their relationship with Christ and each other. We pray that each person leaves camp transformed by Jesus, producing change that ripples into families and churches across New England for generations to come.
I'm praying that the next 50 years see even greater impact as we keep the gospel central, prayerfully depend on God for all our needs, carefully steward our resources, and faithfully honor the spiritual legacy entrusted to us. In 50 years, we want people to reflect on 100 years of ministry and remember God's preeminence, His provision, and His power to change hearts. 
Have you been impacted by the legacy of Camp Maranatha? I know there are many more life-changing stories (I'd love to hear them; give me a call!). Whether 50 years ago or 5 weeks ago, if Maranatha made a difference in your life, would you prayerfully consider giving back, continuing a legacy of faith to future generations?
GIVE TO HELP US CONTINUE THE LEGACY
To God be the glory, great things He has done [and will do]!
Jon LaMontagne
Camp Director
Click below to view full size timeline: